"Ok to play" signs are popping up all over East Lothian, with messages promoting children's right to play.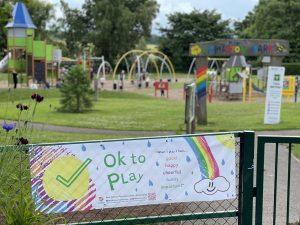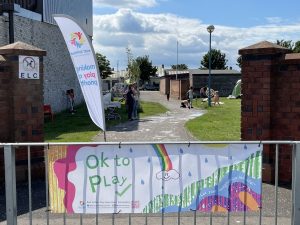 During the coronavirus pandemic children had to stay indoors and when they were allowed out it was for limited time. Even though children missed friends, fun and freedom, some children became scared of playing outdoors in case they caught covid. "No Ball Games" signs make it worse as children say the signs make them feel "unwelcome" and "when we feel unwelcome, we are more likely to stay home and play computer games."

The "Ok to play" campaign is an antidote to "No Ball Games" culture. The project is led by East Lothian Play Association (ELPA) and children at Pinkie St Peters Primary School in Musselburgh who came up with the designs.

The children came up with a design brief for the new signs to be "colourful, clear, positive and welcoming."

The key messages on the "ok to play" signs are –
 "play gives you a break, from work, from, life, from everything"
 "let your imagination run free"
 "When I play I feel good, happy, cheerful, funny, important.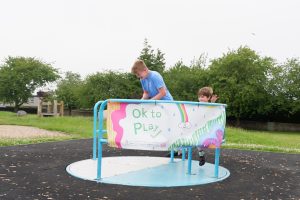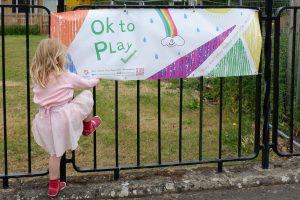 Playing, especially outdoor play, has a wide range of health and wellbeing benefits which are especially important now after months of restrictions. Playing gives children a chance to reconnect with friends, to feel in control, work through emotions, have a break and have fun. Children need to play every day and it is important for children to feel welcome.
More than 60 of the signs will be displayed around East Lothian at community centres, libraries and play schemes; others will be part of ELPA's Pop up Play and Play Rangers programme that provide free, outdoor play sessions this summer. The "No Ball Games" signs are still prevalent across East Lothian, these are an alternative. The signs are available for free to organisations in East Lothian, please contact ELPA if you can help by displaying one.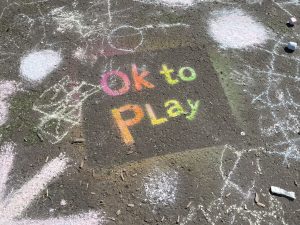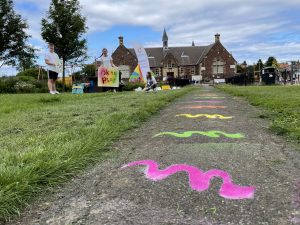 The positive play signs will help children and families feel welcome in community spaces, to stop and spend time playing. Susan Humble, Play Development Officer at ELPA says "It is also hoped that the signs will encourage more people to talk about play spaces and to involve children and young people in these discussions. Playful welcoming spaces, designed with and for children would be a huge asset in our communities. We hope to start these conversations and make this happen."